There are kitchens located on each floor, and everyone is free to use the kitchens located in the open areas on floors 2 and 3. The kitchen on the second floor is shared among 170+ people.  Below are some guidelines for the kitchens:
Be sure to mark your food and careful not to take food that is not yours.
We do not have a kitchen cleaning services; therefore, we do not offer shared dishes.
There is a fresh Byte pantry located in the second floor kitchen. A credit card is required in order to use the machine.
Wipe your spills from the counter and other surfaces (including the floor) immediately.
Cover your food in the microwave. If your food explodes or spills, clean it up.
If your food spilled all over the toaster oven foil, then change the foil. (Hint: you can use a new piece of foil for your food, then toss it in the recycle bin when you're done.)
Coffee is provided as a courtesy by the FAS Finance Service Center in the 2nd floor kitchen. Don't forget to BYOC (Bring Your Own Cup), and if you take the last cup of coffee, make another pot.

Please feel free to bring in your own coffee grounds, or a special creamer you like if you desire something other than what is provided.

Do not leave your dirty dishes in the sink. Wash and dry your dishes and take them back to your desk.
Again, do not take food that you did not bring.
The refrigerators are cleaned out monthly by request and are announced via the 654 Minnesota Communications listserv.
Allocate your compost, recycle and trash items to the correct bin. Not sure which one to use? Check out the Recycling and Waste Reduction website.
If anything is broken, or if general supplies need to be ordered, please refer these instances to Kathleen Prado-Gibson at the front desk.
Friendly reminder: The person that cleans up after you at home doesn't work here.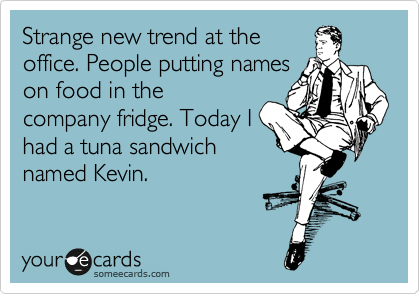 Don't miss the third floor roof deck to take in some fresh air and to enjoy your meal!